Introducing Events 2015
The Events we host here at the farm bring like minded individuals together to interact about a topic or theme we are all passionate about. Our Events cater to a variety of visitors both locally and from a distance to embrace the magnificence of The Hills of Mulmur while inspiring and evoking productive thoughts.
JUNE
June 20th 2015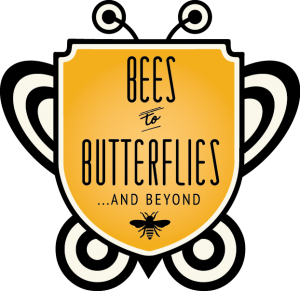 This year during Pollinator Week June 15th to 21st 2015 we are hosting our own event.  Bees to Butterflies… and Beyond  is our first (hopefully annual) Pollinator Awareness Event here at Not So Hollow Farm.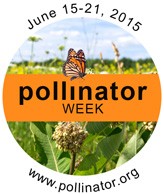 The main objective of our event is to educate the public about the existence of native pollinators, why they are so important to have around, and what they can do individually to help mitigate the negative influences on them. Protecting pollinators is vital to protect our food supply and the natural environment. It is not solely an economic issue it is about life as we know it.
The event promises be fun, interactive and educational for the whole family. We feel that it's very important to engage children as well as adults since we all have a vested interest in pollinator health.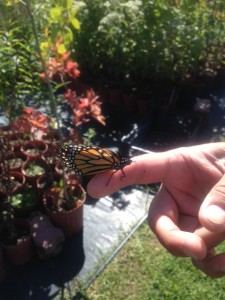 Our agenda will include educational talks by
Susan Chan
,  Karin Davidson-Taylor from the Royal Botanical Gardens and Kimberley Parry, aka.
The Butterfly Whisperer
. Along side these talks will be activities for kids to participate in. We plan to have continuous screenings of 2 films throughout the day. One being " the
Vanishing of the Bees
"  
SEE TRAILER
and the other being  "
Wings of Life
" –  
SEE TRAILER
a Disney Nature production. Also planned is an artisanal honey-tasting bar with samples provided by the Gillian Leitch from the
Toronto Beekeepers Co-Operative
. Food will be available and  prepared by local establishments using ingredients made possible by pollinators.This will be a not for profit event with our non- profit partner being the
North American Native Plant Society
. We plan to have a mini marketplace as well with a mixture of educational booths and vendors selling products related to pollinators. We also have an all ages Puppet Show by our very own Jordan Leech. Jordan has written and performs the unique show with his hand crafted puppets made from natural and re-proposed materials.
We now have the schedule for the day
CLICK HERE
to download.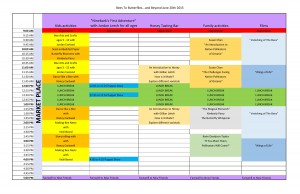 ---
AUGUST
August 1st, 2015 10:30am to Noon
Miriam Goldberger,
founder and co- owner of Wildflower Farm will be at the farm to discuss the importance of wildflowers for native pollinators and sign her book
"Taming Wildflowers"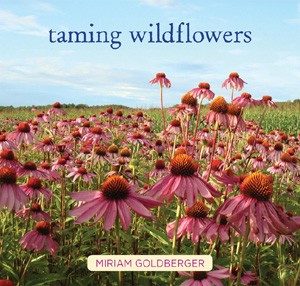 The loss of habitat for pollinators is a very real concern. The planting of native wildflowers can have a huge positive impact on this situation. Since 1986, Miriam Goldberger has seeded, planted, nurtured, harvested and created floral designs with thousands upon thousands of wildflowers. As an expert in organic and sustainable gardening, Miriam will explain the in's and out's of how to grow a pollinators' paradise from seed and how we can integrate wildflowers in to our landscapes. As well as having a huge ecological impact, native wildflowers each have their own physical attributes. Miriam will also demonstrate how to create floral designs showcasing their beauty.
NOVEMBER
November 29th, 2015 1:00pm to 3:00pm
Introduction to Natural Beekeeping
It's finally here. We are getting ready to begin a journey into beekeeping.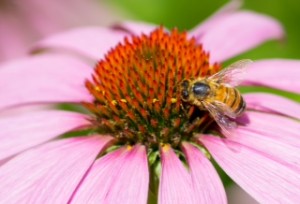 The plan is to create a local community group of passionate stewards and hive hosts who are committed to support and participate in natural and sustainable beekeeping. We welcome part-timers, beginners, weekenders, students, hobbyists and/or anyone who wants to learn more about this fascinating insect. What can we do to preserve, protect and promote our bees in this area we call home?
As a group of treatment-free, 'close-to-organic' bee caretakers we rely on observation and natural practices to keep our bees thriving rather than using pesticides, chemicals or toxic treatments of any kind. Something as simple as letting the bees keep all of their honey on a low production year instead of harvesting it and feeding with sugar water can go a long way to helping the colony overwinter and become more resilient.
We will continue to grow as more and more people discover the enjoyment and worth of encouraging our feral (wild) honeybees and our over 400 species of local native bees. Our goal is to do right by the bees so they can return the favour.
Please join us on November 29th from 1:00 – 3:00 pm at Not So Hollow Farm for an inspirational and informative discussion. Our guest speaker will be Erica Shelley
Erica Shelley, PhD, is a passionate caretaker of the bees. She is deeply committed to small-cell beekeeping, which incorporates a natural, treatment-free approach.  Through her company, Best for Bees ( Bestforbees.com ), Erica shares her knowledge of healthy beekeeping and protecting our pollinators through educational talks, seminars, one-on-one mentoring, and hands-on practical work.  She travels internationally for conferences about organic beekeeping and has been mentored by top beekeepers around the world. Erica has taught for 15 years, including university courses and most recently as the community educator for the Kitchener-Waterloo Humane Society.
She maintains chemical-free beehives (Langstroth and Top Bar hives) on an organic farm in Preston, Ontario and at RARE Charitable Reserve in Cambridge, Ontario where she is the Resident Apiarist.  She does humane relocation of hives, swarm captures, and beekeeping consultations.
Erica lives in Waterloo, Ontario with her brood of three boys.
Kindly RSVP before Thursday November 26th by replying to this email or calling Ian at 705-466-6290 or Debbie at 416-779-9742
If you can't make it to this meeting but would like to stay informed and maybe come out to future meetings CLICK HERE to sign up for email updates
CLICK HERE to register