Entrees – $6-15
Sold in Mason Jars – Perfect for reheating in an Instant Pot!
*Refundable Deposit $1.50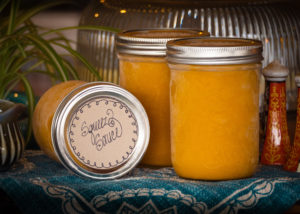 Celeriac Squash Apple Soup
Black Bean Soup
Lemon Lentil Soup
Hearty Chili
Creemy Tofu Curry
Thai Peanut Nuggets
Lentil Walnut Bake
Spicy Ethiopian Stew
Sold in Vacuum Packs
Masala Dosa
Hearts of Palm & Artichoke Cakes
Spanakopita Chick Pea Crepes 
Sides – $4-10
Sold in Mason Jars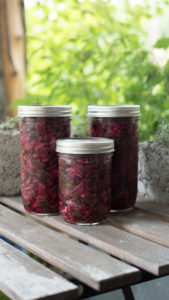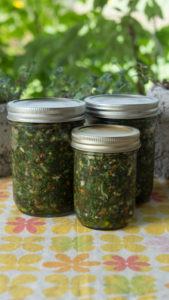 Mashed Potatoes
Basmati Rice
Peanut Sauce
No. 1 Gravy
Sqeeeze Sauce
Kimchi
Sweets
Chocolate Peanut Butter Clusters
Peanut Butter Oatmeal Cookie Mix
Oatmeal Raisin & Pumpkin Cookie Mix
Faux Butter Tarts
Vegan, Gluten-free Prepared Food
The idea of Viki"s Vegan Takeaway came about out of our own search for local, yummy, prepared meals to which one could add a side or a salad and presto, dinner is ready!
When you are busy, vegan and live in a rural area, we found that there were few options out there – especially when you throw gluten intolerance into the mix!
We decided to get busy in the kitchen and fill our freezer with a selection of delicious and satisfying entrees along with some prepared sweets as well.
Viki is inspired by dishes from around the globe that are full of flavor, plant based and gluten-free. Currently featured is eggplant wot from Ethiopia, zucchini fritters from Turkey, Dosa & curries from India, Spanakopita from Greece and Thai-inspired peanut & quinoa nuggets.
Our fridge is full of our famous kimchi and other assorted house made sundries.
The frozen items will rotate on a regular basis and we'll keep you up to date via our website and social media channels.
We are open for pick up Thursdays, Fridays and Saturdays from 9am to 5pm. Fresh items from the veggie garden will be available in our fridge on Saturdays.