As part of our ever increasing list of Native Plants of Ontario Canada we are now stocking a selection of  perennials. These plants are specifically chosen to promote pollinators and as we like to say:
"Passionate people perpetually providing provincially propagated pollinator preferred plants" ….. for a positive planet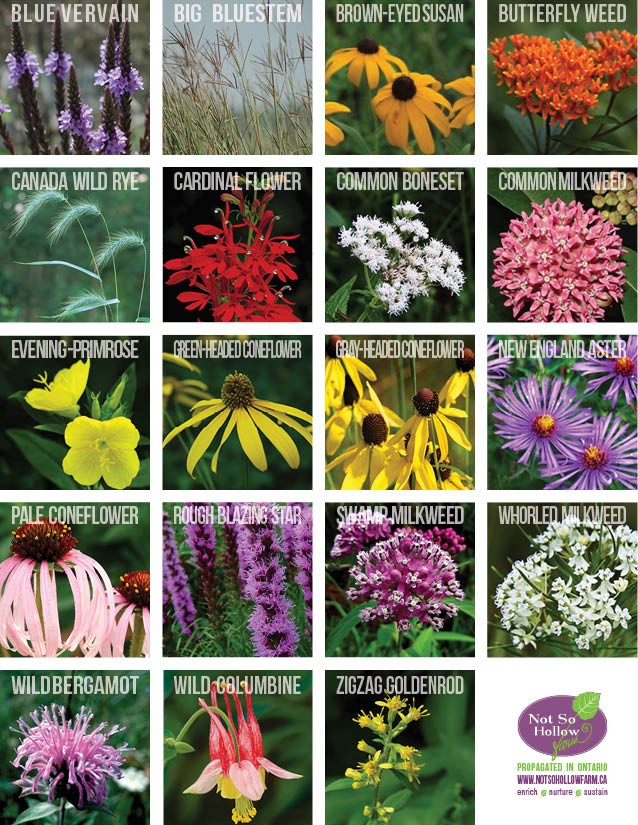 If there is a particular plant you are looking for that is Native to Ontario and is not on our website please contact us and we will help source it for you.
No matter how small your efforts are every bit helps. We all need to do our part to help create habitat, links and corridors of vegetation and food for our Native pollinators. Yes we have Milkweed. Four kinds actually.
SEED BOMBS
In the kiosk at Not So Hollow Farm we have for your guerrilla gardening pleasure Native perennial Seed Bombs. Sling shot not included (but wouldn't that be fun) Below is a list and description of the seeds and preferred habitat for our Lowland and Upland  mixes. The seeds are sourced from Native Plants of Ontario Canada
Lowland Mix

Blue Vervain (Verbena hastate)

Blue Lobelia (Lobelia siphilitica)

Green Headed Coneflower (Rudbeckia laciniata)

Cardinal Flower (Lobelia cardinalis)

Swamp Milkweed (Asclepias incarnate)

Bergamot (Monarda didyma)

Turtlehead (Chelone glabra)

Path Rush (Juncus tenuis)

Foxglove Beardtongue (Penstemon digitalis)

Monkeyflower (Mimulus ringens)

Common Milkweed (Asclepias syriaca)

Upland Mix

Brown Eyed Susan (Rudbeckia hirta)

Showy Tick-Trefoil (Desmodium canadense)

Evening Primrose (Oenothera biennis)

Butterflyweed (Asclepias tuberosa)

Wild Columbine (Aquilegia canadensis)

Tall Cinquefoil (Drymocallis arguta)

Hairy Beardtongue (Drymocallis arguta)

Sweet OxEye (Heliopsis helianthoides)

Bush Clover (Lespedeza thunbergii)

Virginia Mountain Mint (Pycnanthemum virginianum)

Common Milkweed (Asclepias syriaca)
Toss Seed Bombs in areas that you wish to regenerate native plant communities. Each Bomb contains the seeds of native, herbaceous perennials. Plants have been specifically formulated to attract and butterflies and other pollinator species.
The Lowland Mix is best suited for ditches and areas with moist soil.
The Upland Mix is best suited for mid to dry areas.