Feed The Bees
We are so excited about our "The Buzz on Dandelions" campaign to help Feed The Bees.
My Daughter doesn't like us to use the phrase "it"s gone Viral" but what the heck. Let's help Feed the Bees!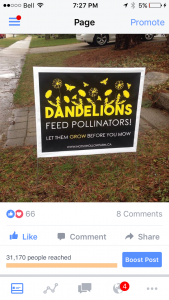 As of the writing of this post we have reached 31,170 people worldwide through our Facebook post of a Lawn Sign CLICK HERE we created to raise awareness about the importance of leaving your dandelions at least until they flower to help feed the bees with their first source of pollen and nectar in the spring. So far we think the furthest reach is Japan. We are amazed and delighted by the response and interest. Especially since we are proud to be Passionate People Perpetually Providing Provincially Propagated Pollinator Preferred Plants… for a Positive Planet!
The "Buzz" has left us with an interesting dilemma. Some of you would like to get your hands on one of these masterpieces. We can send you a pre-printed (both sides) bag sign which is like a plastic sleeve. The actual sign is reasonably easy to send anywhere whereas the wire frame is not practical to ship.  As this is a grass roots campaign the signs are $5 CND which covers our printing costs. Send your contact information including your postal or zip code along with the quantity of signs to viki@notsohollowfarm.ca for a quote on shipping and handling.
Gladly we have come up with some options for a frame for you. The dimensions of the sign are approximately 24″ wide by 20″ tall so the frame should not be any wider than 23 3/4″.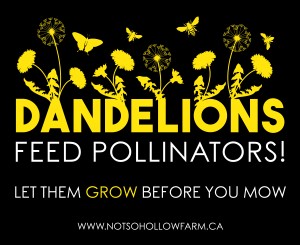 The first option is to contact a sign printer or supplier in your area and see if you can purchase a frame from them since the bag sign needs to be placed over a frame.
Another option is to obtain a blank lawn sign from an office supply store (or online)  IN CANADA  or IN USA  There are probably many others to choose from. You may wish to nip the top two corners off of the corrugated plastic sign to avoid tears.
If you are looking for a large quantity of signs it's best if you contact us so we can help you sort out how you get them printed locally.
Get creative! We are sure some of you will be able to come up with something cheap and cheerful.
Let's help Feed the Bees. Keep the Buzz going. Act Local but think Global. We can do this together…