The New Year is now upon us and our Events and Workshops 2016 calendar is starting to fill up. We are very excited to share with you what's happening at the farm.  Whether it was here at Not So Hollow Farm or out at one of the various other events we attended last year we made many new friends and connections with like minded individuals that share our enthusiasm. 2015 had a lot to do with Pollinators and why not you may ask? So far this year Events and Workshops 2016 are pretty much on the same track with some soil building, birding workshops, organic pollinator planters and edible plants thrown into the mix. Hop on and join us for the ride. We would love for you to come and share your stories.
The Events that Not So Hollow Farm will be hosting, attending or involved with are listed below:
Sunday February 7th 2016 1-3pm
Bee Natural Caretakers Meeting

– Location: Not So Hollow Farm    Cost: Free
This meeting will be a meet and greet format to get to know the other members of the group. We have a cross section of members from newbees to veteran beekeepers. Let's share triumphs and challenges. We will have a 30 minute informal presentation from a local member who has been keeping bees for many years.
We have collectively started a local community group of passionate stewards and hive hosts who are committed to supporting and participating in natural and sustainable beekeeping. The group welcomes part-timers, beginners, weekenders, students, hobbyists, wannabees and/or anyone who wants to learn more about this fascinating insect. What can we do to preserve, protect and promote our bees in this area we call home?
Bee Natural Caretakers is a  group of treatment-free, 'close-to-organic' bee caretakers that rely on observation and natural practices to keep our bees thriving rather than using pesticides, chemicals or toxic treatments of any kind.
The group will continue to grow as more and more people discover the enjoyment and worth of encouraging our feral (wild) honeybees and our over 400 species of local native bees. The goal is to do right by the bees so they can return the favour.
Bee Natural Caretakers had it's first meeting at the end of 2015 with an overwhelming turnout.
Our amazing and inspirational guest speaker was Dr. Erica Shelley www.bestforbees.com Judging by the turnout it was and is obvious for the need of a local group to help bees and people interested in making a difference. The group plans to have regular monthly meetings on the first Sunday of every month.
To join or for more information on the  group email beenaturalcaretakers@gmail.com
---
Saturday February 20th 2016 10am-4pm
We are headed to the Big City to participate in an event called Get the Jump on Spring. Beat the winter blues at TBG's annual open house for the horticultural community with live plant displays, free gardening advice, talks, demonstrations and floral design competition. Enjoy lunch in the Jump Café and browse specialty vendors (including Not So Hollow Farm), artisans and the Garden Shop.
---
Sunday March 6th 2016 1-3pm
Bee Natural Caretakers Meeting

– Location: Not So Hollow Farm    Cost: Free
Debbie will be returning from the 9th Annual Organic Beekeeping Conference in Oracle AZ, USA. She will fill us in on what is happening south of the border. We also hope to have someone come and talk to us about equipment.
---
Sunday March 20th 2016 10am-12pm
It's all about the Soil!

– Location: Not So Hollow Farm    Cost: Free
In this workshop we will explain the benefits of Huglekultur
and how to techniques using yard waste to make productive planting beds.
We also be showing a film "Dirt the Movie" which explains the importance of soil for life on the planet and how our healthy living soils are being depleted at an alarming rate.
---
Sunday April 3rd 2016 9:30am-5pm
Pollination Guelph Annual Pollination Symposium

 – Location: Dublin Street United Church    Cost: see below
The annual pollination symposium will be held on Saturday, April 2, 2016 at Dublin St. United Church in Guelph, Ontario (corner of Dublin St and Suffolk St.  This full day of talks (9am-4pm) will feature a keynote presentation by Heather Holm on Pollinators of Native Plants, a panel discussion about Monarch butterflies, and presentations about the Status of Pollinators in Ontario, Peopnapis pruinosa – Pumpkin's Passionate Pollinator, London as a Pollinator Sanctuary, and updates from the Ontario Nature Youth Council and Pollination Guelph.  The day will also include a period of speed networking, results of our photo contest, and information and products about pollinators and pollination.
The cost is only $40 ($30 students/seniors) if pre-registered by March 27, or $45 ($35 student/seniors) after March 27 or at the door.  Your registration fee includes lunch and two breaks.  Pre-register by using the online registration form on our website homepage.
Download a copy of the schedule here or see below.
Dublin Street United Church is fully wheelchair accessible.
We will have a booth at the symposium. Please come and join us for what promises to bee an amazing day.
---
Sunday April 3rd 2016 9:30am-5pm
Beginner Beekeeping Course

– Location: Debbie and Jeff's Farm    Cost:$100

SOLD OUT
This workshop is currently SOLD OUT please check back since we may be trying to set up another date.
Bee Natural Caretakers
is thrilled to be bringing back Dr. Erica Shelly to lead a Beginner Beekeeping Course in Mulmur!  You will learn absolutely everything you need to know to get started in beekeeping, whether you are a small for-profit operation or have one or two hives on your property.  The focus is on NATURAL, TREATMENT-FREE,  SMALL CELL beekeeping.
Please join us at Debbie & Jeff's Farm in Mulmur for one full day of learning, exploring, discussing and exchanging ideas with one of the foremost experts on small cell, natural beekeeping in Canada.
Cost:  $100 per participant (lunch and snacks are included – kindly specify any special dietary requirements when registering)
Location:  Debbie Gray & Jeff Chalmers Farm  668057 20th Sideroad, Mulmur, ON  (between the 4th and 5th line)
Instructor:  Dr Erica Shelly from Waterloo, ON
Course includes:
Bee Biology
Bee Behaviour
Beekeeping Basics
Hive Diseases
Treatment-free Beekeeping
Small cell Beekeeping
Hive Placement
Types of Hives (Langstroth, Top Bar, Warre, etc.)
Laws surrounding Beekeeping
Where to get your Bees and Beekeeping supplies
Hands-on use of tools and hives (not with live bees)
Farm/Beekeeper matchmaker program
Field trip to beehive (not with all courses, weather and host depenedent)
---
Sunday April 17th 2016 12:00pm to 3:00pm
Native Plants and Pollinators – Build a Solitary Bee Nest

 – Not So Hollow Farm    Cost: $48 includes materials CLICK HERE to Register
This is a two part workshop. In the first part Ian will talk about Native Plants and Pollinators. We will discuss how they interact with each other and their importance to our local biodiversity.
After a short break in the second part we will show you various ways to help Native Solitary Bees in your garden. You will build your own Bee Nest during the class with all of the materials and instruction provided. You'll get to take home your Bee Nest and watch it fill up with Native Bees.
Don't Bee Scared!
Most Native Solitary bees don't even have stingers so you don't need to worry about getting stung. The also are SOLITARY which means they keep to themselves. They would rather be helping you in your garden (pollinating) than have anything to do with you.
---
Saturday April 23rd 2016 9am-12pm
Spring Native Plant Sale

 – Location:  Royal Botanical Gardens    Cost: Free
Come and join Not So Hollow Farm at the
The 2nd Annual Native Plant Sale in the Hamilton-Burlington area happening at Royal Botanical Gardens Rock Garden.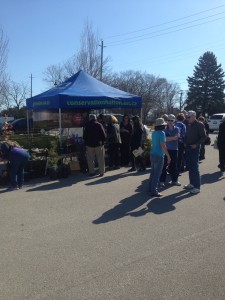 The event is organized by several local groups including the Pollinator Paradise Project and the Cootes to Escarpment EcoPark System.
We will be there with a booth selling Native Plants and various other things.
---
Sunday April 24th 2016 11am-3pm
Here's what you get for $60
220 litre rain barrel
Leaf and mosquito filter basket
Overflow adaptor
Spigot
Overflow Hose
15% off Pollinator Friendly Native Trees and Shrubs @ Not So Hollow Farm
Preordered rain barrels will be available for pick up on Sunday April 24th  between 11:00 am and  3:00pm @ Not So Hollow Farm in Mulmur, ON 838369 4th Line East, Mulmur, ON L9V 0J7 (just north  off Dufferin County Rd 21, west of Airport Rd) 705-466-6290
Rainbarrels are $60 each and
must be pre-ordered BEFORE Friday April 22,2016

on-line through:

For more information, please contact Debbie Gray, Debbie@heritagebee.com 416-779-9742
---
Sunday May 1st 2016 1-3pm
Bee Natural Caretakers Meeting

– Location: Not So Hollow Farm    Cost: Free
Agenda TBD
---
Sunday May 29th 2016 10:30am to 2:00pm
Planning a Perennial Pollinator Garden and the Importance of Annuals for Pollinators 

 – Not So Hollow Farm    Cost: $40 includes lunch
In the morning Ian and Viki will give a presentation on how to set up and plant your garden to help promote pollinators. We will talk about how trees, shrubs and perennials can be used in the garden to provide food and habitat for all of our local pollinators throughout the seasons. We will also provide a few easy tips that you can do in the garden that you may not have thought of.
Lunch will be provided and during the break you will have the opportunity to mingle, ask more questions and take it all in.
After lunch we discuss the how annual plantings fill in the gaps between some bloom times in the garden. Did you know there are many edible annuals that pollinators love to visit? You will find out what some of these are and how to incorporate them into your garden. 
We will also have our Pollinator Totes available for sale. Participants of this workshop will be entitled to 15% off the regular cost of $80. plus HST
---
Sunday June 5th 2016 1-3pm
Bee Natural Caretakers Meeting

– Location: Home of Sam and Sonya Wyss    Cost: Free
Agenda TBD
668193 20 Sideroad, Mulmur, ON L9V 0W1
The entrance from the road is shared with the neighbour, please keep right and follow the driveway for about 500 metres.
---
Sunday June 12th 2016 8:00am-12:30pm
Beginners Birding Workshop

 – Location: Not So Hollow Farm    Cost: $35
At this event we will be joined by Lisa Levez Bordeleau to lead us on a journey to learn about the importance of  Natural and Constructed Habitats for our local bird population and why we should be planting Native Plants in our own gardens. She will teach us to identify 30 common local birds by sight and sound so bring your binoculars!
In the first segment of the workshop each participant will be handed an identification card for one of the thirty birds (including tips to identify that bird by sight and sound). Lisa will be taking us on a walk about the farm to find some birds! As we hear different bird species we will stop, listen and identify them. Bird sounds from various iPhone apps will be shared to compare to the birds we are actively seeing and listening to.
During a short break Lisa will fill us in on why we should look for "Bird-Friendly" coffee while we share tea, coffee and snacks.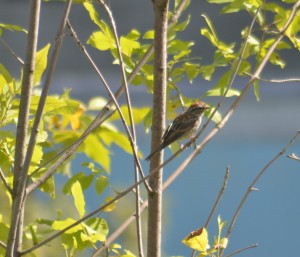 After the break we will discuss our observations from the morning session including bird identification difficulties and what to look for. Lisa will go through the basic bird identification for all 30 of the local birds on the short list. She will give us a brief introduction to using binoculars for birding, introduce us to Birding Groups and Bird Studies Canada projects that support a continued learning community as well as resources for documenting species of concern.
To top it all off at the end of the workshop each participant will go home with the resources to assist them to independently learn 160 Ontario bird species' main songs or calls (grouped into – similar sounding birds, families, habitats, winter and summer birds). Helpful mnemonics of bird sayings will be given for each bird listed.
Don't forget to bring your binoculars if you have a pair. Feel free to bring a lunch and hang around at Not So Hollow Farm to practice what you learned in the morning.
Spaces for this event is limited so register early.