Eat Like A Bird is a saying we have all heard many times which usually means to not eat very much. What some of us don't realize is that birds actually eat a LOT!
The highlight of the conference was listening to an amazing and inspirational talk by Doug Tallamy, author of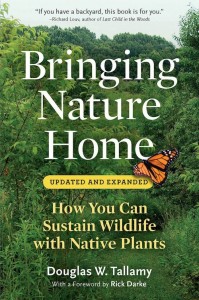 "Bringing Nature Home"
.  A book we strongly urge anyone to read and available at many sources including here in our kiosk. Lorraine Johnson introduced Doug as a "Rock Star" of the Native Plant world. We concur!
One of the points that Mr. Tallamy explained was what it is like to Eat Like A Bird. Many of us put out bird seed to feed our beloved songbirds. In reality, baby birds do not and cannot eat seeds. What do they eat? Lots and lots of caterpillars. One clutch of newly hatched chickadees consumes over 7,000 before they reach adulthood. Mice, foxes, even Black Bears eat insects comprising up to 25% or more of their diet. Without insects we would have no amphibians. The food chain is a sensitive web which humans keep on altering.
Native plants are the overwhelming hosts of caterpillars and other insects, many we never see unless you look for them.  90% of these specialize on specific plants they have evolved with. To use one of Doug's examples, a native Oak tree can host over 500 species of caterpillars whereas a Ginkgo supports none.  In our area, the top 5 genus that we should include in our plantings are Native Oaks (quercus), Willows (salix), Plums/Cherries (prunus), Birch (betula) and Poplar/Aspens (populus).