With three weeks left to go we are proud to post the Bees to Butterflies…and Beyond Pollinator Event Schedule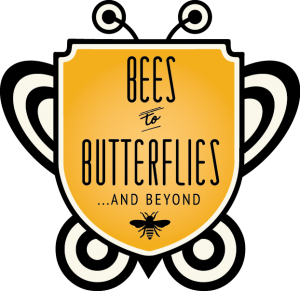 On Saturday June 20th the North American Native Plant Society will be at Not So Hollow Farm for the Pollinator awareness event of 2015. We have been planning this event for more than a year now and it is finally coming together. There is an action packed day with activities and experiences for all age groups.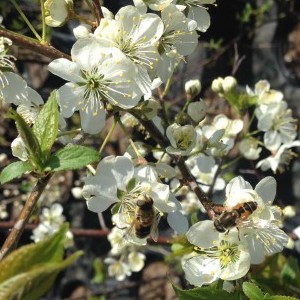 You are encouraged to gather with like-minded people to help promote, preserve and protect pollinators which are a direct link to our food supply and health. On top of it all you may or should I dare say learn something. We're hoping at the end of the day that everyone will leave with a positive outlook about what we can all do collectively to make difference.
The gate opens at 9am and closes at 5pm. Come for the whole day or drop in when it suits your schedule. You can pre-register by CLICKING HERE (please) or buy tickets at the gate starting at 9am. Some activities start promptly at 9:15am see schedule below.
Click on Day Schedule To download and print a copy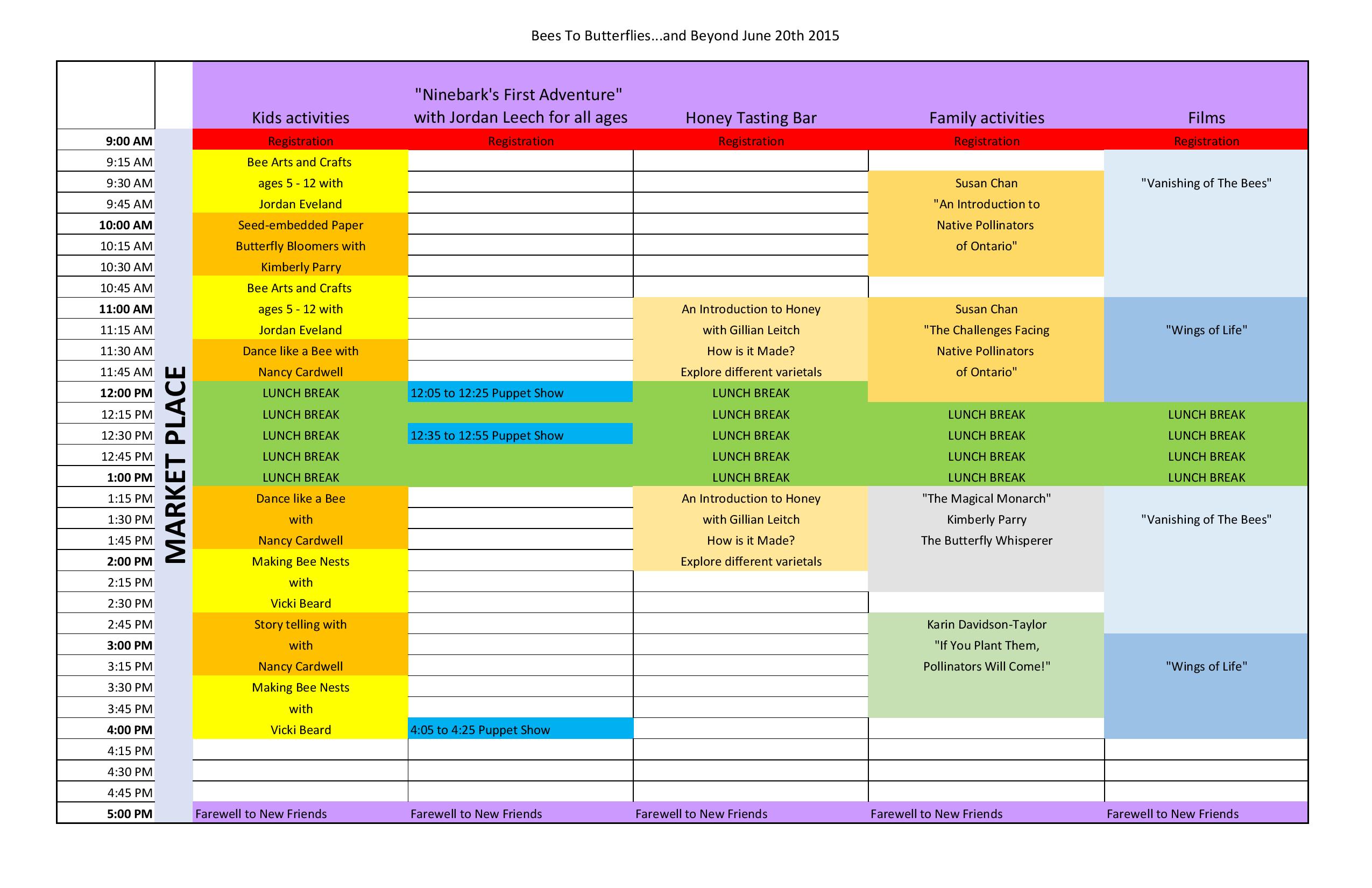 Descriptions of activities
Kids Activities
Artist facilitator Jordan Eveland will engage the children in an activity making bee harlequin masks.
The Butterfly Whisperer Kimberly Parry invites children to make and take home a special seed embedded paper butterfly that transforms into pollinator friendly wildflowers when planted.
Professional dancer Nancy Cardwell will choreograph the children (ages 5 -99 years old) in a "Dance of the Bees" around the farm mimicking actual bee movements.
Active Pollination Guelph member, Vicki Beard will show us how to make Native Pollinator Solitary Bee Nests with common materials.
Puppet Show
Jordan Leech presents a puppet show that he has written and performs. All the puppets are handmade by Jordan using natural found and/or re-purposed materials including avocado pits. A truly unique experience for all to enjoy.
Honey Tasting Bar
Did you realize that even honey from the same producer can taste different? Similar to wine, honey varies in flavour and intensity depending on it's terroir. It also varies depending on the time of year and the flowers the honeybees collect their nectar from. Gillian Leitch from the Toronto Beekeepers Cooperative will explain how beekeepers manage honeybees to produce the honey we have learned to love for centuries.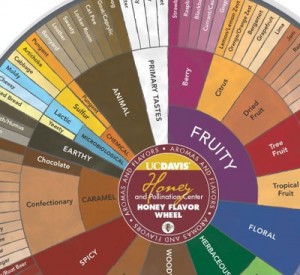 With reference to the honey flavour wheel developed by the Robert Mondavi Institute for Wine and Food Science Gillian will guide us through the various sensory qualities that honey can emote.
Family Activities
For families with children over 10 years of age we have a series of speakers to explain the the wonderful ins and outs of the world of pollinators. More and more the importance of pollination to our food supply and ultimately our health and wealth is being realized. To find out more about our speakers click on their name below.
Most of us don't realize that honeybees are not the only animal that pollinates our flowers for food and for wildlife. There are 300 species of native bees in Ontario that play an important role in pollination not to mention butterflies, moths, beetles and other animals thrown into the mix.
In the morning Susan Chan with share her extensive knowledge about native pollinators.
An Introduction to Native Pollinators of Ontario
In this talk Susan will give us an overview of Native Pollinators basically the who, what, where, why and when. You will be amazed by the daily activity of what is going on in our natural surroundings.  Most of which goes on in the background without our knowledge.
The Challenges Facing Native Pollinators of Ontario
After a short break Susan Chan will elaborate on Native Pollinators and the challenges they face. These challenges include habitat loss and degradation, diseases and the threats caused by human intervention such as pesticide use.  Susan will convey her extensive knowledge on the hot topic of neonicitinoids.
After the lunch break we will change up the topics and feature Kimberly Parry aka Monarch Whisperer and Karin Davidson-Taylor
The Magical Monarch
Kimberly Parry has been raising Monarch butterflies for over 40 years and will be joining us to share her passion and some of her adventures as the Butterfly Whisperer. Her presentation will focus on the Monarch Butterfly and explore why we have such a fascination with, and love for this insect – Canada's most popular pollinator.
If you Plant them Pollinators Will Come
Karin Davidson-Taylor works full time at the Royal Botanical Gardens and is a member at large of Pollination Guelph. What visits your garden and why? Would you like to see more butterflies, bees and other pollinators? What are some of the threats to our pollinators? Karin will share some basics of pollination,why certain insects or birds are attracted to certain flowers and how you can use this knowledge to improve the habitat of these beneficial, and sometimes threatened creatures.
Films
We have two films that will be running throughout the day related to the theme of the day.
The first one is "Vanishing of the Bees" followed by "Wings of Life" We will be playing them both once in the morning and once in the afternoon.
FOOD!
All of our food choices feature ingredients made possible by pollinators.