Somebody is turning 150 this year! Fortunately, our great country is looking fabulous for its age. Are you in need of a way to celebrate this monumental birthday? Of course, this is besides wearing a toque, watching hockey and adding "eh" to the end of every sentence! How about an exciting way to celebrate that establishes a long standing legacy and will benefit every Canadian. Not only will this present be a gift that keeps on giving, it will be a great way to spend time with family and friends. So this summer, why not plant a native maple tree in honor of our home and native land.
Why A Maple Tree?
The maple tree is our national tree and is proudly displayed at the center of our flag. The leaf is the symbol that represents our nation, unified and strong, from coast to coast. It is the icon that represents us on the world stage and embodies the hearty Canadian spirit. To put it simply, there is nothing that is more Canadian than a red maple leaf emblem.
Why Choose A Native Maple Tree?
There are ten species that are native to Canada. The most prominent in Ontario are the sugar, red and silver maples. A common misconception is that the Norway maple is native, when it a non-native species and considered to be invasive in Ontario. Maple trees provide excellent ecological benefit and are accustomed to the climate and conditions of Canada. In fact, native maples have been growing here long before the official formation of the country of Canada. Many studies suggest that native varieties are much better for local wildlife and are more resilient to the cold weather storms than non-native species and cultivated versions. In the fall the maple trees put on a show, displaying gorgeous shades of orange, red and yellow. This magnificent tree also gives back to Canadians by sharing its sap which is turned into the delicious, sweet maple syrup. Canada produces almost all the maple syrup in the world!
The Best Present Ever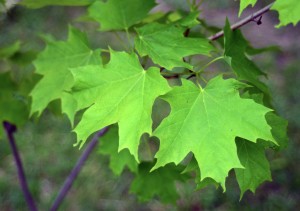 Planting a living, breathing milestone for the 150th birthday on your property is a wonderful gift to Canada for countless reasons. First, the experience will be rewarding and memorable. Even if you do have the means to hire someone – do it yourself. This is a perfect opportunity to celebrate the values of our country with your family. Because what makes our country great is not just the iconic symbols and mere soil on which we stand, but its people- more specifically our families.
Planting a tree with kids or grandkids will lead to an opportunity for a moment teach them about the value of the environment and giving back to your local community. As Thomas Fuller says, "he that plants trees loves others beside himself." Trees are beneficial for everyone! A main reason is because trees are the lungs of the earth. They are natural air cleaners and provide our land with fresh, clean oxygen every day. A healthy native maple is a gift from your family to everyone else in Canada!
Reap The Benefits
Once planted, your family will have the opportunity to watch the tree grow and change over the years as it matures from a sapling into a stately, strong tree. Perhaps down the road this birthday present may turn into a favorite shady spot on sunny afternoon or that "perfect" climbing tree. One can only speculate, but one thing is certain- a native maple is a perfect gift for Canada's 150th birthday now and into the future.
So, Canada thanks you in advance for adding another great native tree to our landscape. Because as Canadians we know the value of a polite response. So thank you once again. Oh sorry, did I say that twice? Enough said….let's get planting, eh!
Bonus Information For Canada 150
Because of this special birthday there are some offers that make it even easier to get your hands on some healthy, native maple trees. At Not So Hollow Farm we have 20% off the (Acer) maple family during the month of July. We also have some great prizes for families who purchase a native maple tree and share their planting experience with us on Instagram. Find out more about his offer soon!
The Maple Leafs Forever organization has also stepped up for this 150th celebration by generously providing a rebate of 25% off native maple trees for property owners who plant 10 or more trees larger than 150cm. Its the best year yet for planting maple trees. Come by the farm and see our wide selection!