CHECK OUT THESE LAWN SIGNS!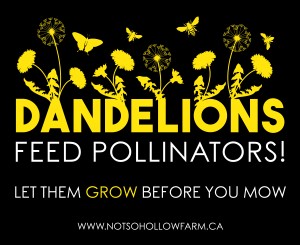 Available mid-February. Get some before the snow all melts and the grass is growing. You can pick them up when visiting the farm by checking the hours tab to find out when we are open.
THE BUZZ ON DANDELIONS
THE IMPORTANCE OF POLLINATORS:
Pollinators are an essential part of the ecosystem, maintaining the balance and sustainability of many different terrestrial environments. They carry pollen from one plant to the next allowing flowering plants to produce fruit essential to other organisms in the food chain. Bees and other pollinators are starving around the world due to the lack of food available to them. Without pollinators, our own food system would be in jeopardy, as humans rely on them for every 1 in 3 bites of food.
DANDELIONS AS FOOD SOURCE:
The queen honeybee needs the essential amino acid Lysine to enable her to produce the 200,000 eggs she will lay in her lifetime. There are few pollen sources of Lysine available in the spring. Willows being one, Dandelions being the other.
Dandelions are an essential part of the ecosystem because they offer an early and abundant source of nectar and pollen. They are in their peak bloom at exactly the same time that pollinators, in critical need of food are emerging from their overwintering sites. A dandelion flower consists of 40-100 florets, each of which containing nectar and pollen. With so many flowers in proximity, pollinators can fill up without wasting time or energy looking for a new source.
DANDELIONS IN OUR YARDS:
We can help pollinators by providing forage for them in the spring, as well as throughout the growing season. Here are a few best practices for supporting pollinators while keeping your yard looking great:

Create a 'pollinator pasture' by inventing creative mowing patterns like cutting a design or pathway, while leaving the rest of the yard to support pollinators.

Mow after peak dandelion season.

If you must mow then do so only in the early morning or late evening, when the flowers are closed and pollinators are less likely to be foraging.

If you want to do your part but dandelions are not your thing, manually remove them (without pesticides) and offer alternative food sources by planting early blooming flowers in your yard. It is also important to provide sources of food and water the entire growing season. For a list of nectar and pollen flower sources please refer to our website: www.notsohollowfarm.ca
We would like to thank the folks at Ecosuperior and Roots To Harvest for their generous sharing of information. Please check them out by clicking on their names/links.
We would also like to acknowledge the inspiration from Diana Beresford-Kroeger. Her books and videos are truly awesome.
 
LET THEM GROW BEFORE YOU MOW! 
The following is a list of Early Forage for Bees and other Pollinators. Some of the plants on the list are Native and some are Non-Native. The plants that are Native to Ontario are indicated with an N
Bulbs
Narcissus – Daffodils
Crocus – Crocus
Scilla siberica – Siberian Quill
Muscari botryoides – Grape hyacinth

Galanthus nivalis – Snow Drops
Chionodoxa luciliae – Glory of the Snow
Trees and Shrubs
Prunus species – Plums, Cherries, etc. many to choose from  N
Acer species – A. rubrum (red) and A. saccharinum (silver) are the earliest  N
Betula species – Birch  N
Quercus species – Oak particularly Q. alba (white) and Q. macrocarpa  N
Malus species – Apple and Crabapple M. coronaria  N
Amelanchier species – Serviceberry various  N
Corylus species – Hazelnut  N
Populus species – P. balsamifera (balsam)  N
Salix species – Willow various  N
Ribes americanum – Wild black currant  N
Mahonia aquifolium – Oregon Grape
Herbaceous Perennials
Anenome nemorosa – Wood Anemone
Anenome patens – Prairie crocus
Hellebores – Hellebores
Eranthis hyemalis – Winter aconite
Arabis caucasia – Wall Rock Cress
 Zizia aurea – Golden Alexander  N
Viola species – Violets many N
Geum triflorum – Prairie Smoke N
Aquilegia canadensis – Wild Columbine N
Cornus canadensis – Bunchberry N
Fragaria virginiana Wild Strawberry N